Democrats Reject Amendment to Dismiss Federal Contest Against Congresswoman Miller-Meeks
Washington, DC – Committee on House Administration Ranking Member Rodney Davis (R-Ill.) today delivered this opening statement calling on the committee to immediately dismiss the election contest filed against Congresswoman Mariannette Miller-Meeks (R-Ia.). Davis offered an amendmentat today's business meeting to immediately grant Congresswoman Miller-Meeks's motion to dismiss to stop taxpayer dollars from being wasted on overturning an election that has been certified by the State of Iowa after a thorough, transparent, and bipartisan recount process. Unfortunately, Democrats rejected Davis's amendment by a partisan 6-3 vote.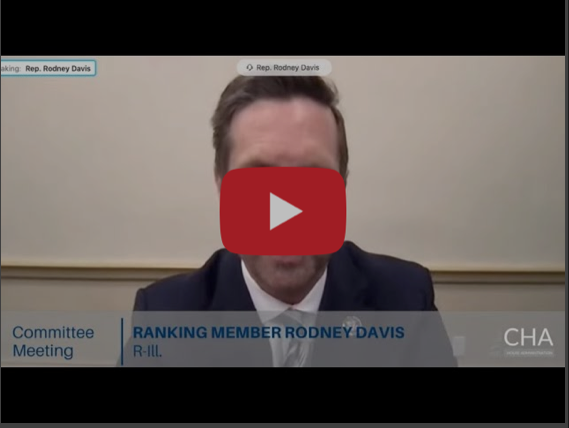 CLICK HERE or above to watch.
Davis's prepared remarks:

Thank you, Chairperson Lofgren.
 
Before I begin my remarks, I would like to note that this Committee meeting was noticed late, in violation of our rules. Now, I know some issues are late-breaking and might require adjustments, but the election contest before us was filed on December 22—making this meeting hardly late-breaking. I would encourage my colleagues to provide the notice required by our rules so that Members and our staffs may prepare adequately to serve the American people at these Committee meetings.
 
This committee should immediately move to grant Congresswoman Miller-Meeks' motion to dismiss this election contest. Our committee should not be moving forward with overturning our colleague's state-certified election. She is a sitting member of Congress with all the same rights and privileges as each and every one of us.
 
Madam Chair, while I know we see the facts of this contest differently, I know we agree that any contest process should be bipartisan, open, and fair. As you are aware, both sides have expressed concerns with deficiencies in the FCEA in the past, including during the discovery process. I hope we will both commit to working together in all election contests to ensure a bipartisan, open, and fair process for the Committee and the parties.
 
As noted in her motion, Congresswoman Miller-Meeks was certified the winner of Iowa's 2nd District only after a thorough, transparent, and bipartisan process. Bipartisan recount boards, which included a member from each campaign and an agreed upon third party, in all 24 counties went through and counted and recounted every lawful vote under Iowa law. Following this process, Iowa's bipartisan State Canvassing Board voted unanimously to certify Congresswoman Miller-Meeks the winner.
 
This is a process we can trust. In fact, we already have. At the same time Congresswoman Miller-Meeks was sworn in, three other members from Iowa were also sworn in. By moving forward with Rita Hart's complaint, this committee is calling into question every member of Congress elected under Iowa law and each of us, too.
 
Rita Hart had an opportunity to challenge the claims she's making before the committee in Iowa's impartial court process, but she chose not to. That leads me to believe her lawyers knew she could not win under Iowa law. Instead, she's choosing to pursue a partisan process in the House where Democrat members of Congress, not Iowa voters will determine their representation in Congress. We've seen Democrats do this before – steal a House seat by changing the rules.
 
In 1985, Democrats overturned a House seat by disregarding state law. Ballots that were not legal under state law were now suddenly determined legal votes under new rules invented by a partisan task force who completely rejected state law. This contest was dubbed the 'Bloody Eighth.' This bitter fight dominated this committee for nearly five months and eroded public trust in their election process.
 
We should learn from the mistake Democrats made 35 years ago and move to grant Congresswoman Miller-Meeks' Motion to dismiss, which would ensure that the votes of each and every Iowan who cast a valid ballot in this race will be counted.
 
The public's distrust in our election process is already higher that it's been in a long time and the partisanship in this House is the highest it's been since I came to Congress. This committee is only contributing to this partisanship. The first action of this committee was to jam through a nearly 800-page election bill, which every Republican and one Democrat voted against on the floor, last week and this week, our second action is to move forward with overturning the election of one of our Republican colleagues.
 
In the meantime, this committee, which has oversight of the United States Capitol Police, the House Sergeant at Arms, the Architect of the Capitol, and the Chief Administrative Officer, has not held a single hearing on the issues of January 6th and the vulnerabilities of our Capitol complex. We've had dedicated members of the National Guard here for months and we have not held a single hearing on the sustainability of having them here or what should come next. The House Sergeant at Arms and U.S. Capitol Police have been without a permanent leader for months. We have not held a single hearing on how this is impacting security. General Honore has released a report with many recommendations that I believe we can work together on, but instead of having a hearing on the General's report, we're having a meeting to move forward with overturning an election of one of our colleagues that was certified using a bipartisan and transparent process.
 
The priorities of this committee are backwards.
 
While running for election is partisan in nature, administering and determining the outcome should never be. It will be one of the greatest mistakes this House makes to take up an election contest where the candidate sidestepped the courts and instead, turned to a partisan process in the House because they knew they could not win any other way.